Sections in this article
---
What is Bloom Patients?
Bloom Patients is a free tool for Patient Relationship Management (PRM). Organizations use Bloom Patients as their central, shared hub for managing patient contact information (Bloom Patient Directory) as well as all communications with those patients (Bloom Patient Outreach). Patients can access your messages right away either through text messages/email, or via our secure conversations portal - no bulky app download required!
How do organizations use Bloom Patients?
Our customers use Bloom Patients to schedule appointments, send secure lab results, distribute screeners and questionnaires, help fill quality gaps, and answer questions from patients. Bloom's tools allow you to meet patients where they are, and use the communication channels they're already used like email and text messages. This helps increase patient satisfaction and allows your office to become more generally efficient through money and time savings.
Bloom Patients Premium
Bloom Patients is a free product that allows you to manage your patient contact information and send outgoing messages. Every account in your organziation can access both the shared patient directory and shared conversations list.
Bloom Patients Premium allows two-way communication with all your patients, enabling you to carry on a full back-and-forth conversation over text messages or through our secure conversations portal. Bloom will purchase and provide your organization with an incoming, private phone line your patients can use to initiate conversations.
Bloom Patient Directory
The Bloom Patient Directory is your shared, secure patient contact information store. To access the directory, simply click on the Bloom Patients navigation icon and click on the "Directory" header.

From this page you'll be able to browse all the patients in your organization, search for patients, view and edit patient information, and create new patients.
Create a New Patient
It's easy to create a new patient and add them to your directory. Click on the "Create new patient" button to open the create patient dialog.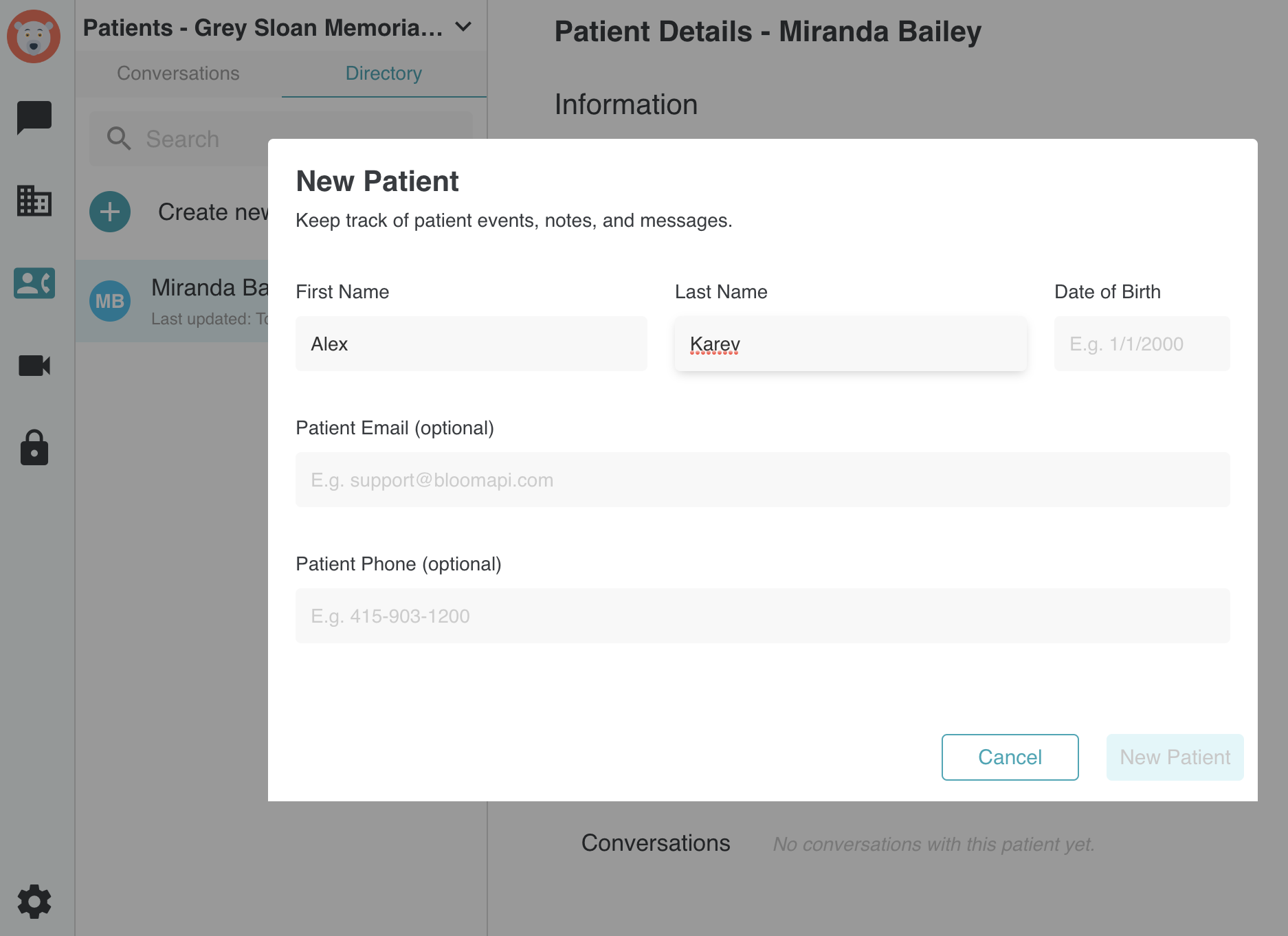 From here add the patient's first and last name, their birthdate, and contact information. As soon as you create the patient, they'll be visibile in the shared directory to all other users in your organization.
Import/Export EMR Patients (BETA)
The self-service ability to import and export patient contact information from your EMR is still under development by Bloom. If you'd like to import a patient list before it's publically available please contact one of our staff and we'd be happy to assist you!
View and Edit a Patient
Click on any patient in the directory list to view their information.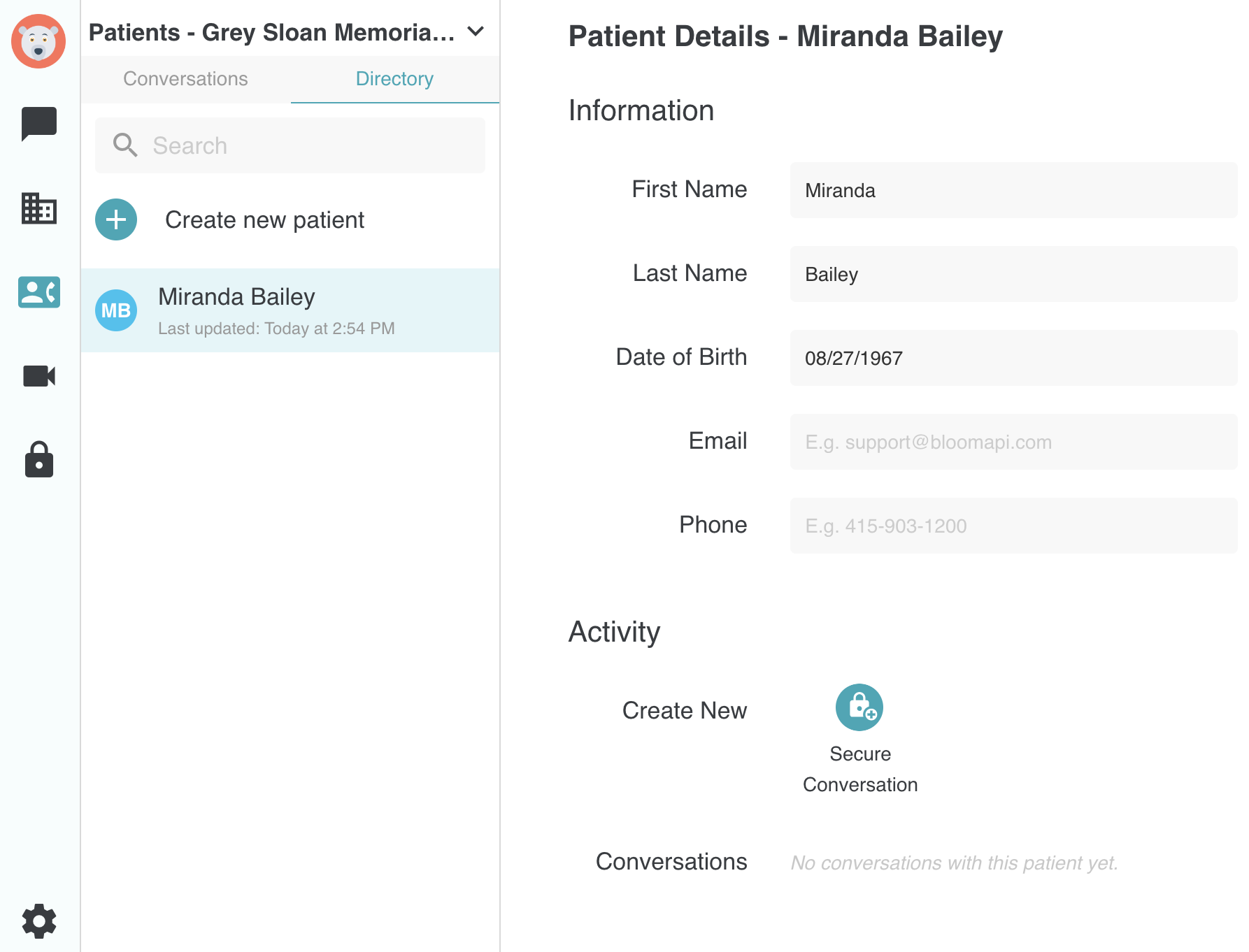 From here you'll be able to edit their demographic information, update contact info, create new conversations, and view existing patient conversations.
Bloom Patient Outreach
Use Bloom Patient Outreach for all your patient communications. Our tools allow you to use text messages and email to reach your patients where they already are, and they require no download on the patient's side. These conversations can be either secure, allowing you to send messages and files containing Protected Health Information (PHI) securely, or insecure which is a little more conventient for non-protected conversations e.g. appointment reminders.
Secure Conversations
To create a secure conversation, click on the Bloom Patients navigation icon and then click on the "Conversations" header. You'll see the full, shared list of conversations for your office.
To create a conversation with a new patient, click on the "Create new conversation" button to open the new conversation dialog. Choose a patient from the directory, a subject for you conversation, ensure the toggle is set to "secure conversation," and click "Start Conversation." If the patient doesn't have a contact method, either a phone number or email, you'll be prompted to add one before starting the conversation.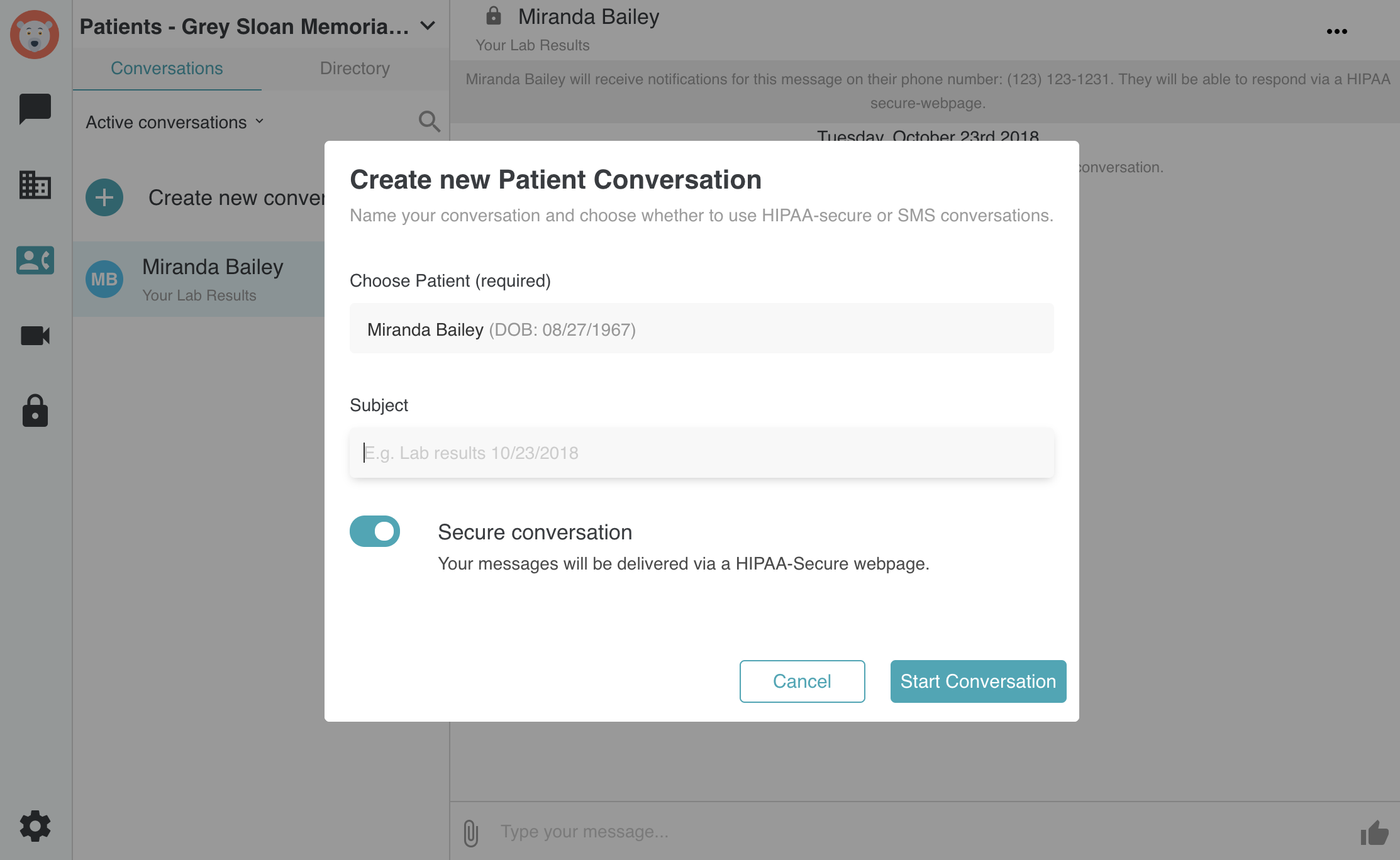 You'll be brought into the conversation screen with the patient. This should look just like any other conversation and it works the same way from your perspective. Feel free to send message and attach files. You'll see any messages or files the patient sends back in the chat window. An important difference is the header at the top of the conversation. It'll inform you if the conversation is secure or not, and also let you know what contact methods (phone or email) we're using to message the patient.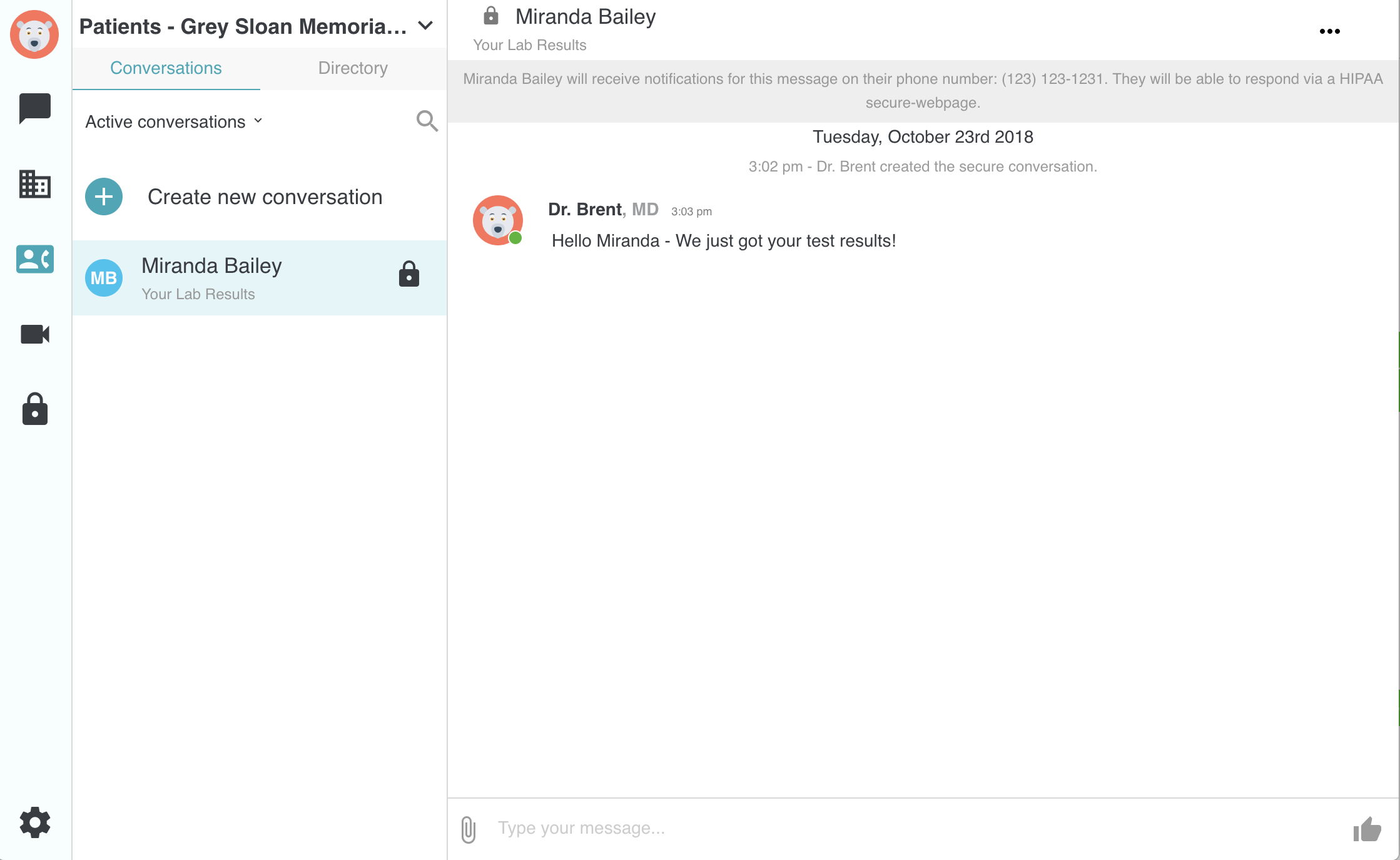 Whenever you send a secure message to you patient, they'll receive an email and text message with a secure, time-limited link. Clicking the link will bring to the patient conversations page, allowing the patient to see those secure messages and files you sent them. They'll see the whole record of the conversation, including all messages from any members of your organization, and reply with secure messages or files on their own.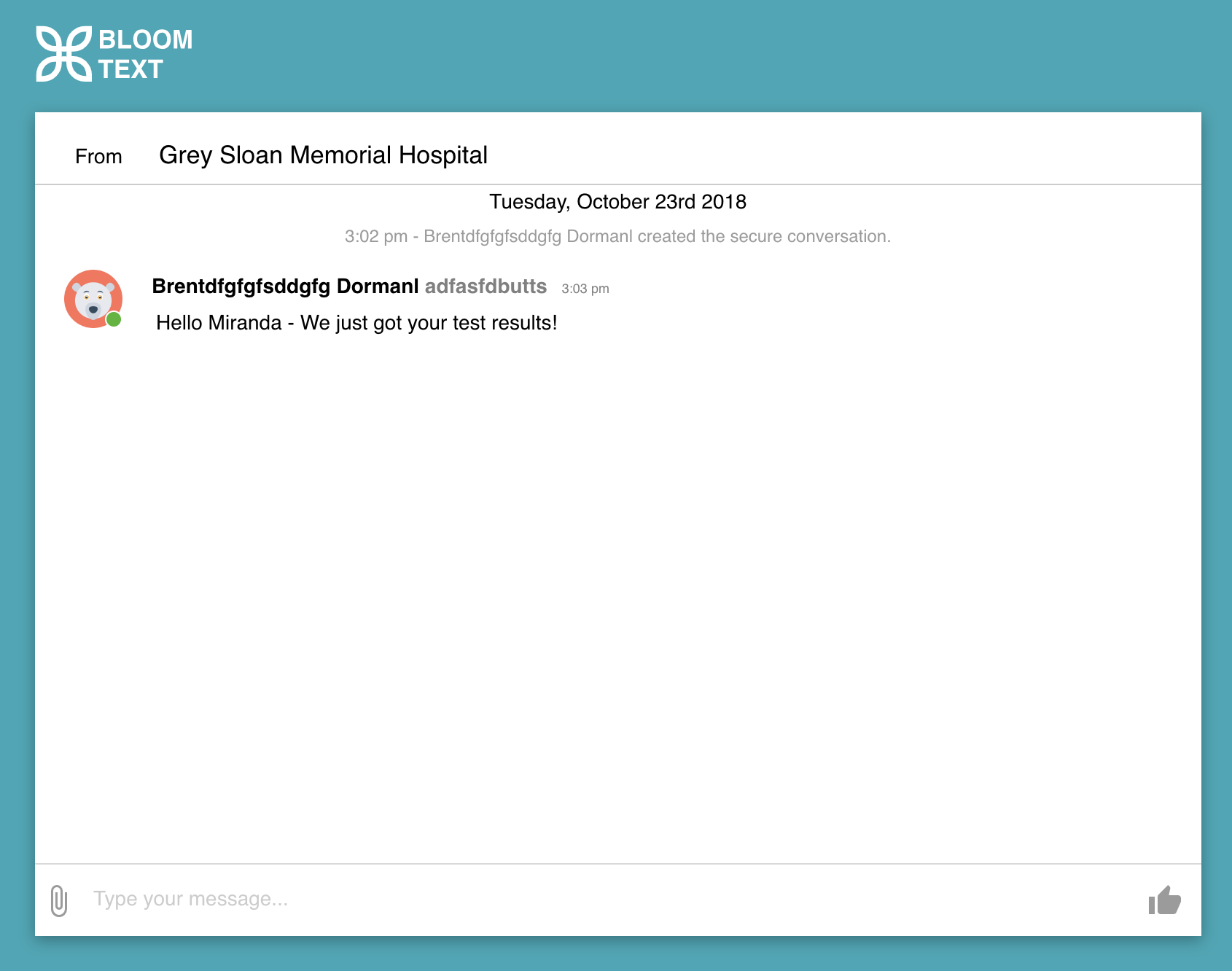 Use secure conversations to keep an ongoing, secure conversation with your patients and transfer protected messages and files with confidence.
Insecure Conversations
Not all patient conversations contain PHI, and for more casual conversations Bloom Patient Outreach offers insecure text message conversations.
Create an insecure conversation the same way you create a secure one, but ensure that the "secure conversation" toggle is set to "insecure" before submitting.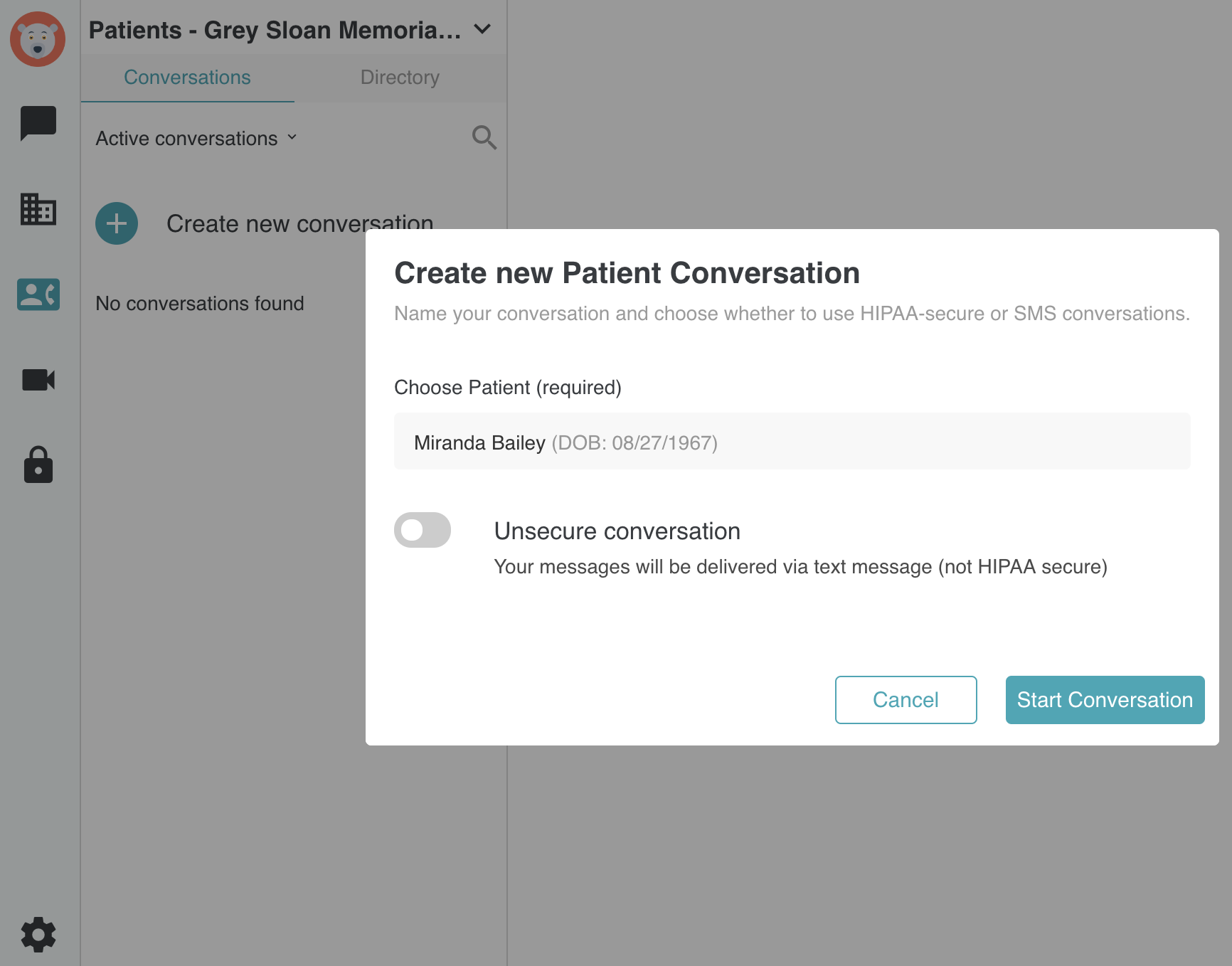 Rather than sending a link to the patient to visit the secure patient messaging portal, insecure messages are send as plain text messages, just the same as you'd see when sending text messages to friends or contacts from your phone. All patient text message responses are mirrored in the created conversation - treat it just like a message thread on your phone!
Bloom Patients Premium
Because of costs associated with purchasing and managing phone lines, the features of Bloom Patient Outreach are broken into basic and premium tiers.
With the free, basic tier, your organization can start secure conversations with any patients in your directory, but patients will be unable to reply. This means you can't have ongoing, back-and-forth patient conversations, but can still use it to send one-way communications like appointment reminders or lab results.
If you need the full featured product, including back-and-forth secure conversations and insecure conversation support, you'll need to upgrade to Bloom Patient Outreach Premium.